All-In-One POTS Alternative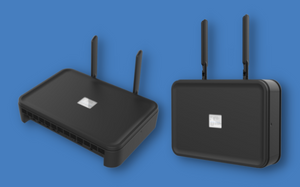 Get the All-In-One POTS Alternative…powered by Ooma® AirDial® because old analog copper phone lines are for the birds! Over the coming years, usage of traditional copper POTS lines will continue to decline. Service and support, if not completely phased out, may become scarce. In the interim, costs will continue to increase as coverage shrinks. For Clients to ensure business continuity and protect themselves from rising costs, they should transition to Entelegent Solutions All-In-One POTS Alternative. #GETENTELEGENT
Benefits
Enables technology transformation
Allows clients to keep their existing devices
Ensures business continuity [Offers redundancy by leveraging both existing internet infrastructure and an LTE wireless connection (primary or backup) to ensure service reliability for critical communication requirements].
Protects clients from rising POTS line costs
Quick and easy migrations
Devices are fully managed and proactively monitored for peace of mind
Applications
ACCESS – Building Entry Phones/Door Entry Intercoms/Gate Phones
ALARM PANELS – Boiler Rooms/Elevators/Fire/Security
TRANSACTIONS – ATMs/POS Systems/Vending Machines
ESSENTIAL PHONES – Public Safety Phones/Blue Light Phones/Call Boxes
FAX MACHINES, SCADA DEVICES…and many more.  Our experts can help identify your needs!
Compliance
Built to UL, NFPA 72, and ASME A17.1B standards
MFVN Operator for Fire Life Safety systems to facilitate fire code compliance in most fire jurisdictions in the US
PCI and HIPPA – Encrypted end-to-end, Voice packets not stored so
there is no visibility into what is being transmitted
The EnTelegent Edge
Expert Consultation, Comprehensive Copper Line Audit, Project Management, Installation, Testing, Monitoring, and Troubleshooting
Certified Installation and Service Technicians Available Nationwide
Emergency Replacement
Improved SLAs
No Billing Surprises
Save Up to 50% or more vs LEC-supplied lines
Contact your Agent today for more information.